Garage Door Springs
Back To Our Services
Highly-qualified Automatic Garage Door installation technicians.
Lowell, Massachusetts is a fantastic place to live. This Middlesex County city boasts over 106,000 residents and is considered the cradle of the Industrial Revolution. With so many historic sites preserved by the National Park Service and with an easy rail commute into Boston, Lowell is a wonderful place to live and work. Residents of Lowell know that when garage door issues arise, they can contact their neighborhood garage door springs and repair service: Garage Door Repair Lowell.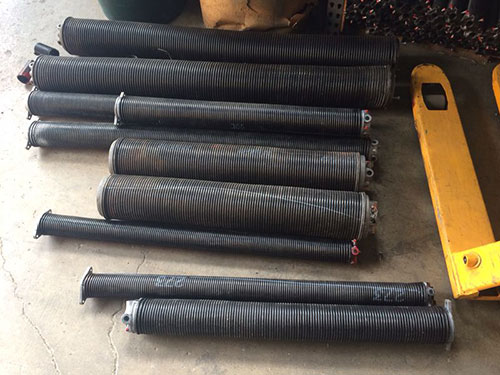 Repairing garage door springs should always be left up to a licensed and certified professional contractor. Garage Door Repair Lowell specializes in the following:
Garage torsion springs replacement
Extension springs repair and other needs associated with extension garage door springs
Overhead door springs
Torsion coil trampoline springs
Galvanized garage door torsion springs
Oil tempered garage door springs
Repairing worn bottom rubber or weather stripping
Replacing sections of damaged garage doors
Fixing warped tracks
Repairing snapped or loose cables
Garage Door Repair Lowell is experienced in all major types of garage door openers, which include chain drive, belt drive, and screw drive. Same day service is available with our 24/7 emergency servicing.
Garage door springs should be maintained in order to prolong the life of your garage door. Schedule regular lubrication and adjustments to keep your garage door springs running smoothly, which saves you money on costly repairs and replacements.
While you are at it, consider upgrading to a brand new remote control system. Garage Door Repair Lowell offers a wide variety of garage door remotes, some of which include:
Multi Code
Clicker
Liftmaster Security +
Genie Intellicode
Upgrading to a new remote means improved security features, protecting your home and your family. You may also consider a brand new garage door. The following garage door types are considered among the most popular:
Craftsmen garage doors
Aluminum garage doors
Glass garage doors
Wood garage doors
Steel garage doors
Custom garage doors may also be available
Whether your garage door is off track, has a broken emergency release, needs, or has an unknown problem, contact Garage Door Repair Lowell for your emergency repairs. You can also schedule an adjustment and lubrication or contact us for new product information. We strive to become the best and most trusted garage door service company in Lowell, Massachusetts, and we are proud to call this city home.